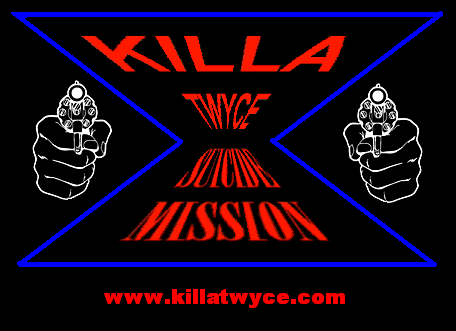 [1] Reality check
[2] Rape roulette
[3] In bed with me
[4] Hard chilled
[5] Let me introduce you to sex
[6] Last run
[7] Genocidal express
[8] I go to work
[9] Not Quite Funky
[10] Outta line (a sample of the KT groove)
[11] Underground
[12] On a mission
[13] I stare at everyone
[14] Nothing but a clone
[15] Dead men donít get kisses
[16] Why ya NEVER shuttin me down
[17] With just a taste of my anger
[18] Partner fallen
[19] By His grace alone
[20] The rappin klansman
[21] When I die...


All songs written by Killa Twyce
W.E. C.R.A.Z.Y. affiliations
(W)ildly (E)ndorsing (C)ollege (R)ap (A)nd (Z)ealous (Y)earnings
Insane Asylum Records, FOOL!!!
---